A lot has been said about how more and better data can enhance access to health care. By helping track and prevent diseases, discover innovations in medication and cures, the potential of data to transform health is endless. Yet, according to the World Health Organization and World Bank Group, half of the population lacks access to essential health services, and almost 100 million people are pushed into extreme poverty each year because of out-of-pocket health expenses.
Many organizations are working to make data work for healthcare. The Datasphere Governance Atlas, a mapping of over 260 organizations working on data governance found over 39 organizations across 20 countries working on issues related to data and health.
On the occasion of World Health Day – which commemorates the 75th anniversary of the World Health Organization and the public health successes that have improved quality of life during the last seven decades – the Datasphere Initiative spoke to Kirsten Mathieson, Policy & Advocacy Lead at Transform Health to understand the work they are doing and what actions should be taken to make sure data governance works for the health sector.
Datasphere Initiative: What is Transform Health's mission and objectives?
Kirsten Mathieson: Transform Health is a coalition of more than 100 organizations committed to achieving Universal Health Coverage by 2030 by harnessing digital technology and the use of data. Our Mission is to build a global movement that brings together organizations and institutions across sectors to advocate for the equitable, inclusive, and sustainable digital transformation of health systems to achieve health for all. Our work centers around three key objectives:
Building consensus and political will to strengthen the enabling environment for digital health transformation.
Calling for a global framework, underpinned by equity and human rights-based principles, to be developed and adopted by governments.
Advocating for increased and better-coordinated investment in digital health.
Across all aspects of our work, we are committed to promoting the perspectives and leadership of youth, women, and marginalized groups.
Datasphere Initiative: Drawing from the process to govern data in the health sector, what are the main challenges and lessons learned that could be built on and transposed to the general discussion on data governance?
Kirsten Mathieson: There are a number of challenges and lessons that can be applied across sectors. For example, the need to balance data protection and data sharing – realizing the important role of data for public good, while at the same time ensuring people's privacy and security and upholding their rights.
It is important for data governance across all sectors to be underpinned by a core set of principles, with a strong equity and rights focus. It is also important to have a strong foundation based on norms and standards, e.g drawing on existing duty obligations that countries have made to respect, protect and uphold basic rights.
Another important lesson for all sectors is ensuring a people-centered, transparent, and inclusive approach. This includes meaningfully engaging civil society and communities and ensuring diverse voices are consulted on how data is collected, shared, and used. We cannot look at how to govern people's data, without involving the people whose data we are talking about and who would ultimately be affected by any governance framework or legislation. Without such an approach, any framework would likely fail to meet the needs of all population groups. Ensuring the general public is part of the conversation also helps lay the foundation of trust between individuals, institutions, and government in relation to the governance of data.
Datasphere Initiative: Why are you calling for a global data governance framework for health?
Kirsten Mathieson: We are calling for a global health data governance framework to establish an agreement between countries around a set of minimum regulatory standards for the governance of health data, to maximize the public value of health data whilst protecting individual rights.
While there is a need for data governance to be strengthened more broadly, the particular nature of health data necessitates a health-specific framework. For example, particular sensitivities around health data require extra protections to safeguard this data, prevent discrimination and uphold peoples' rights. And unlike other kinds of data, health data plays a vital role in maintaining the health and well-being of both individuals and the wider population and thus is both a personal asset and an important asset for public good.
This would inform the development (and strengthening) of national health data governance legislation and regulation, while also governing health data sharing across countries. It additionally would lay the foundation for improved public trust in health data systems where individuals feel protected, respected, and in control of their own data while allowing institutions working to protect the health and well-being of the population to access and use it for the public good. It would also help advance national and global health goals towards Universal Health Coverage (UHC) and improve country's responses to health emergencies.
Datasphere Initiative: What do the Health Data Governance Principles consist of?
Kirsten Mathieson: The Health Data Governance Principles are a set of eight Principles aimed at aligning policymakers and other stakeholders around a shared vision of equitable health data governance, where all people and communities can share, use and benefit from health data. They are clustered around three interconnected objectives of protecting people, promoting health value, and prioritizing equity. They aim to strengthen the health data governance ecosystem by bringing a human rights and equity lens to the use of data within and across health systems and are oriented toward supporting sustainable and resilient public health systems that can deliver UHC.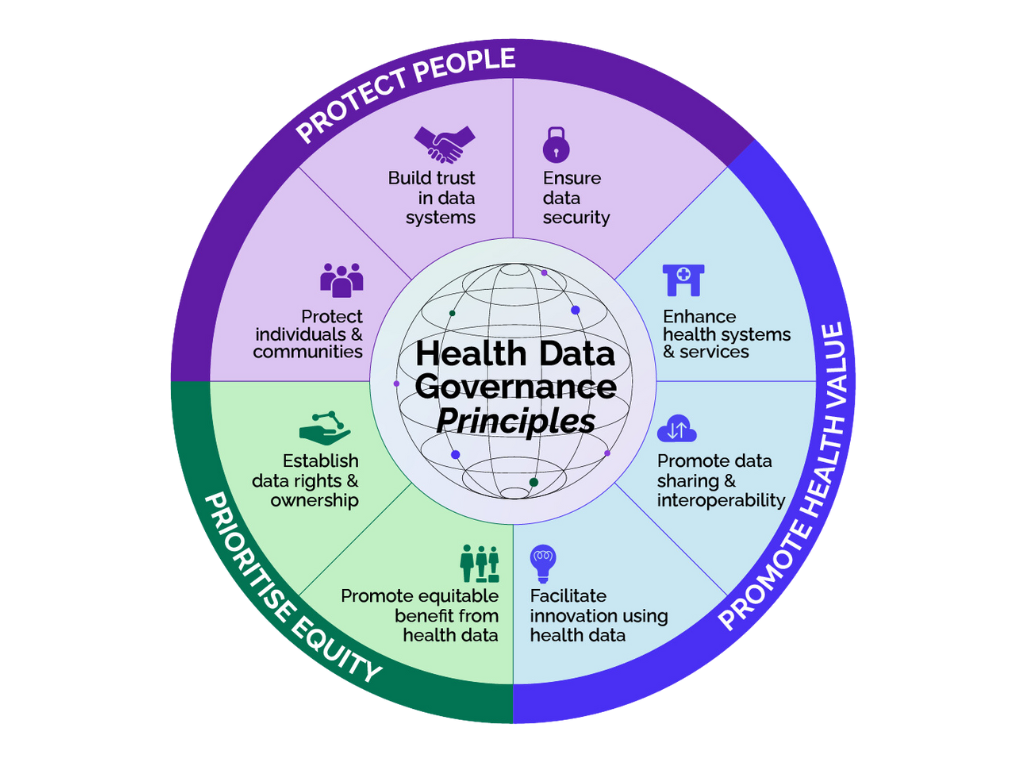 The Principles were developed through a participatory and inclusive process that brought together perspectives and expertise from over 200 stakeholders from across geographies and sectors. They have wide applicability, including for governments, technology companies, donors, and non-governmental organizations, among others. Since their launch on World Health Day last year, they have already been endorsed by more than 140 organizations.
Datasphere Initiative: How can individuals and organizations support your work and join your efforts?
Kirsten Mathieson: There are lots of ways to support these efforts! We encourage organizations to endorse the Health Data Governance Principles, showing their commitment to improving the equitable governance of health data. We also encourage organizations to sign onto the global Call to Action letter, joining the more than 150 organizations calling for a global health data governance framework to be developed and adopted by governments, including action on this at the World Health Assembly.
Individuals can get involved by joining the #MyDataOurHealth campaign. This is a global campaign that aims to engage people and politicians in the discussion on how health data is collected, managed, used, and disposed of.